£1.5m+
of stock held
in our warehouse
20k
Trustpilot Reviews
- Rated Excellent
BIG BRANDS, BETTER VALUE
Your favourite brands for less
Imagine an online shop where big brands are cheaper than own label.
Each and every day you'll find amazing deals on the DiscountDragon.co.uk website, it could be Heinz Baked Beans for just 1p, or Weetabix for 99p. It could even be a bundle of kitchen essentials FREE to the first 500 customers. We're committed to helping our customers through the 'cost of living' crisis and if we can help you save on the stuff you need, you'll have more to spend on the stuff you want.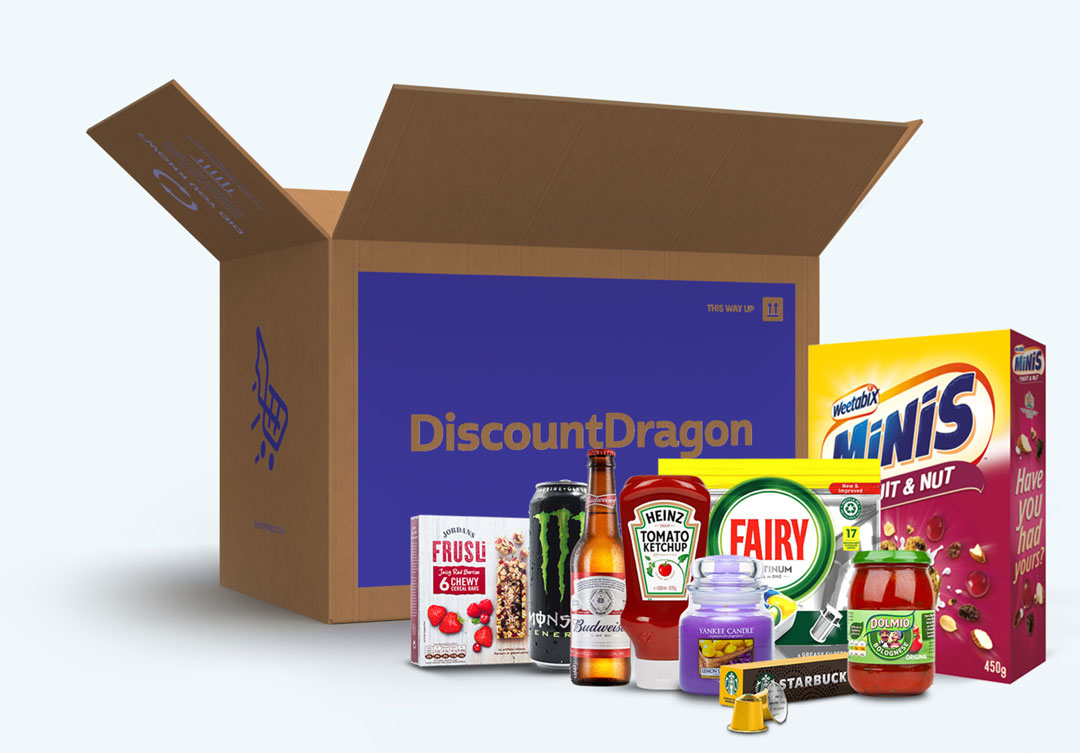 We all love big brands, from Heinz Ketchup to Starbucks coffee. Imagine an online shop where these brands are cheaper than own label.
From Heinz Baked Beans, to Weetabix, Starbucks, to dog treats, our buying team is constantly on the lookout for new and exciting branded products they can offer consumers for less, up to 60% less.
Big brands at
own brand prices
Born in 2022 following the acquisition of a little e-commerce site in Wigan, which was quickly renamed, Discount Dragon. Our focus is in delivering branded FMCG favourites at discounted prices whether it's your favourite cereals, beans or beer. With thousands of tons of food going to waste each year due to mis-packaging, over supply, or items coming close to their Best Before Date, we think there's a different way, a better way. Discount Dragon buys these items and by buying smart we can pass on the savings to the consumer. Savings which in many cases are up to 60% cheaper than their RRP.
As a result consumers are saving £££'s. Whilst we're still a youngster, the business has already been featured in numerous publications, including exclusive features in The Sun, Daily Mirror and ITV's This Morning.
With over 20,000 Trustpilot Reviews; Rated 'Excellent' it's no wonder we are quickly becoming the most talked about discount site on the web.